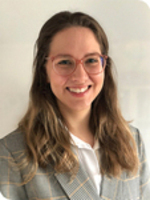 M.Sc. Litsy Hüschelrath
Karlsruhe Institute of Technology
Institute of Microstructure Technology
Hermann-von-Helmholtz-Platz 1
76344 Eggenstein-Leopoldshafen
Short CV
Litsy Hüschelrath studied business administration and engineering with specialization in materials science at RWTH Aachen University and Karlsruhe Institute of Technology (KIT).
In 2020 she came to the group of Prof. Dr. Guber at the Institute of Microstructure Technology (IMT) and wrote her master thesis in the field of microstructuring for application in stem cell research.
Together with former colleagues she acquired a government funded project in 2021 to work on the further development and commercialization of novel implant surfaces.
Expertise
Micro- and Nanofabrication
·

UV-Lithography

·

Reactive Ion Etching (RIE)

·

Plasma Etching
Surface Analysis
·

Vertical Scanning Interferometry (VSI)

·

Atomic Force Microscopy (AFM)

Scanning Electron Microscopy (SEM)