Peptide, Chemical and Material Arrays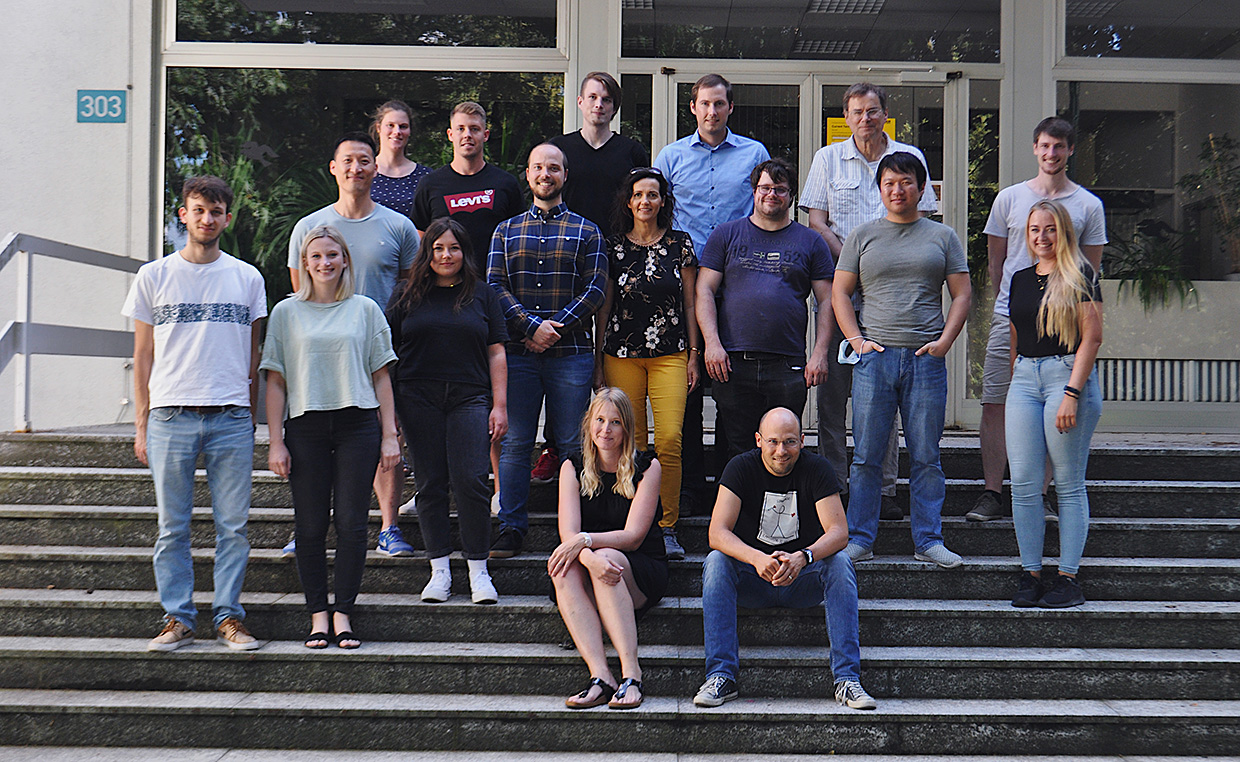 We are chemists, chemical biologists, biologists, physicists, mechanical and biological engineers in our group. We build machines to do extremely miniaturized peptide- (more) and chemical synthesis (more) in the array format. In addition, we use our nano3D printer also for combinatorial printing of extremely thin material layers ("printed nanostacks") in order to screen for novel materials (more).
If you are looking for a collaboration or a group to do your Ph.D., Master, or Bachelor thesis you are at the right place! Please contact us.
Major achievements:
January 2021: Funding of EURIdoc proposal approved. (more)
Funding for IMT 85.000 € for one PhD student. Collaboration with Reinhard Voll (Univ. clinic Freiburg) to readout the antibody-based immune system in autoimmune disease (more)
August 2020: Start of FET Proactive EU project NANOSTACKS. (more)
Coordinator Frank Breitling. Overall funding 4 Mio €; Funding for IMT 1,4 Mio €. Partners: SME Tecnan (Spain), SME PEPperPRINT (Heidelberg), Research Organisation L'Urederra (Spain), University Leuven (Belgium)
July 2020: Start of Future Fields project "CO2-fixation with the help of extremely miniaturized chemical synthesis" (more)
Overall funding 0,4 Mio € from KIT. Partners: Jan Korvink (IMT), Stefan Bräse (IOC)
April 2020: Patent granted for one-cavity-one-peptide-method. (more)
Althuon DS, Breitling F, Bykovskaya V, Loeffler FF, Nesterov-Mueller A, Popov R, Ridder B, Von Bojnicic-Kninski C. (2016) Ultrahigh-density oligomer arrays and method of production thereof. Patent family EP3362463B1, US10376858B2
April 2019: Review that describes future applications of solid-material-based-chemical-synthesis.
Mattes DS, Jung N, Weber L, Bräse S, Breitling F. (2019) Miniaturized and automated synthesis of biomolecules – Overview and perspectives. Advanced Materials, first online published 29 April 2019; 31: 1806656; DOI: 10.1002/adma.201806656; (more)
April 2019: Printing mode nano3D printer elucidated.
Paris G, Klinkusch A, Heidepriem J, Tsouka A, Zhang J, Mende M, Mattes DS, Mager D, Riegler H, Eickelmann S, Loeffler FF. (2020) Laser-induced forward transfer of soft material nanolayers with millisecond pulses shows contact-based material deposition. Applied surface science, 508, Art. Nr.: 144973. DOI: 10.1016/j.apsusc.2019.
March 2019: Parallel and cheap diagnosis of many different antibodies feasible in principle.
Aeinehvand MM, Weber L, Jimenez M, Palermo A, Bauer M, Loeffler FF, Ibrahim F, Breitling F, Korvink J, Madou M, Mager D, Martinez-Chapa SO (2019) Elastic reversible valves on centrifugal microfluidic platforms. LAB ON A CHIP, 19, 1090-1100; DOI: 10.1039/c8lc00849c; (more)
January 2019: Textbook Recombinant Antibodies.
Dübel S, Breitling F, Frenzel A, Jostock Th, Marschall ALJ, Schirrmann Th, Hust M. (2019) Rekombinante Antikörper; Lehrbuch und Kompendium für Studium und Praxis. 330 Seiten. Springer Spektrum Verlag, Wiesbaden, ISBN 978-3-662-50275-4
December 2018: Publication extremely miniaturized synthesis of peptoid arrays
Mattes DS, Streit B, Bhandari DR, Greifenstein J, Foertsch TC, Münch SW, Ridder B, v. Bojničić‐Kninski C, Nesterov‐Mueller A, Spengler B, Schepers U, Bräse S, Loeffler FF, Breitling F (2018) Combinatorial Synthesis of Peptoid Arrays via Laser‐Based Stacking of Multiple Polymer Nanolayers. Macromolecular Rapid Communications, 40(6), 1800533; doi.org/10.1002/marc.201800533; (more)
June 2018: Extremely miniaturized synthesis of peptide arrays. (more)
Mattes DS, Atwater J, Streit B, von Bojničić-Kninski C, Löffler FF, Breitling F, Fuchs H, Hirtz M (2018) Combinatorial synthesis of macromolecular arrays by microchannel cantilever spotting (µCS). Advanced Materials, 30:e1801632; DOI:10.1002/adma.201801632 (Epub 2018 Jun 25)
November 2017: NanoMatFutur Grant for Felix Löffler.
Overall funding 2,6 Mio €. Felix Löffler is now a group leader at the Max Planck Institute of Colloids and Interfaces.
July 2017: Start of BMBF project ANTIBIOTIKA. (more)
Coordinator Frank Breitling. Overall funding 1,25 Mio € for KIT; Partner: IBG-2 (Anne Ulrich)
April 2017: Readout of the antibody-based immune system with (random) peptide arrays is feasible even without any previously obtained information. (more)
Weber LK, Palermo A, Kugler J, Armant O, Isse A, Rentschler S, Jaenisch T, Hubbuch J, Dubel S, Nesterov-Mueller A, Breitling F, Loeffler FF. (2017) Single amino acid fingerprinting of the human antibody repertoire with high density peptide arrays. Journal of Immunological Methods 443, 45-54; DOI: 10.1016/j.jim.2017.01.012
September 2016: Alternative solid-material-based method for peptide synthesis.
von Bojnicic-Kninski C, Bykovskaya V, Maerkle F, Popov R, Palermo A, Mattes DS, Weber LK, Ridder B, Foertsch TC, Welle A, Loeffler FF, Breitling F, Nesterov-Mueller A (2016) Selective Functionalization of Microstructured Surfaces by Laser-Assisted Particle Transfer. Advanced Functional Materials 26, 7067-7073; DOI: 10.1002/adfm.201603299
June 2016: Publication novel nano3D printer (invented by Felix Löffler).
Loeffler FF, Foertsch TC, Popov R, Mattes DS, Schlageter M, Sedlmayr M, Ridder B, Dang FX, von Bojničić-Kninski C, Weber LK, Fischer A, Greifenstein J, Bykovskaya V, Buliev I, Bischoff FR, Hahn L, Meier MAR, Bräse S, Powell AK, Balaban TS, Breitling F, Nesterov-Mueller A. High-flexibility combinatorial peptide synthesis with laser-based transfer of monomers in matrix material. Nature Communications, 2016, DOI: 10.1038/NCOMMS11844
August 2014: Start of BMBF project KATMETHAN. (more)
Coordinator Frank Breitling. Overall funding 0,95 Mio €; Funding for IMT 0,265 Mio €. Partners: IMS Stuttgart (Harald Richter), Univ. Bochum (Martin Bröring), University Braunschweig (Nils Metzler-Nolte)
March 2014: Alternative solid-material-based method for peptide synthesis.
Maerkle F, Loeffler FF, Schillo S, Foertsch T, Muenster B, Striffler J, Schirwitz C, Bischoff FR, Breitling F, Nesterov-Mueller A (2014) High-Density Peptide Arrays with Combinatorial Laser Fusing. Advanced Materials 26, 3730-3734; DOI: 10.1002/adma.201305759;
January 2013: Peptide arrays can be replicated.
Schirwitz C, Loeffler F, Felgenhauer T, Stadler V, Nesterov-Müller A, Dahint R, Breitling F, Bischoff FR. (2013) Purification of High-Complexity Peptide Microarrays by Spatially Resolved Array Transfer to Gold-Coated Membranes. Advanced Materials 25, 1598-1602. DOI: 10.1002/adma.201203853
January 2012: Start of EU project TARGETBINDER. (more)
Coordinator Frank Breitling. Overall funding 4 Mio €; Funding for IMT 0,9 Mio €.
August 2011: Start of EU project PEPDIODE. (more)
Coordinator Frank Breitling. Overall funding 2,6 Mio €; Funding for IMT 0,7 Mio €.
June 2011: ERC Starting Grant for Alexander Nesterov-Müller.
Overall funding 1,5 Mio €. Alexander Nesterov-Müller is now a group leader at the KIT institute of microstructure technology.
February 2011: Innovationspreis der deutschen Wirtschaft.
Stadler, V., Bischoff, R., and Breitling, F. Our spin-off company PEPperPRINT is the winner in the category "StartUp". (more)
July 2009: Our spin-off company PEPperPRINT starts to sell peptide arrays.
The company is profitable and steady growing since then. Funding via a credit of 500.000€ from the Hightech Gründerfonds.
May 2008: Winner of "Wissenschaftspreis des Stifterverbande" (awarded with 50.000 €).
Breitling F, Bischoff FR, Stadler V, Felgenhauer T, Leibe K, Fernandez S (all from DKFZ or KIT) and Güttler S, Gröning M, Willems P, Biesinger B (Fraunhofer IPA). Project Peptide laser printer.
July 2008: 3D PEGMA / PMMA solid support for peptide array synthesis.
Stadler V, Kirmse R, Beyer M, Breitling F, Ludwig T, Bischoff FR. (2008) PEGMA/MMA Copolymer Graftings: Generation, Protein Resistance, and a Hydrophobic Domain. Langmuir 24, 8151-8157
July 2008: Publication "peptide-laser-printer".
Stadler V, Felgenhauer T, Beyer M, Fernandez S, Leibe K, Güttler S, Gröning M, Torralba G, Lindenstruth V, Nesterov A, Block I, Pipkorn R, Poustka A, Bischoff FR, Breitling F. (2008) Combinatorial synthesis of peptide arrays with a laser printer Angew. Chem. Int. Ed. 47, 7132–7135; DOI: 10.1002/anie.200801616. (more)
January 2008: Start of EU project PEPLASER. (more)
Coordinator Frank Breitling. Overall funding 3 Mio €
December 2007: First publication "solid-material-based synthesis".
Beyer M, Nesterov A, Block I, König K, Felgenhauer T, Fernandez S, Leibe K, Torralba G, Hausmann M, Trunk U, Lindenstruth V, Bischoff FR, Stadler V, Breitling F. (2007) Combinatorial synthesis of peptide arrays onto a computer chip's surface. Science 318, 1888; DOI: 10.1126/science.1149751. (more)
June 2003: NanoFutur Grant for Volker Stadler.
Overall funding 1,6 Mio €. Volker Stadler is now the CEO from our spin-off company PEPperPRINT.
January 2001: pIII-defective helper phage that is used in all phage displayed antibody libraries.
Rondot S, Koch J, Breitling F, Dübel S. (2001) A helper phage to improve single-chain antibody presentation in phage display. Nature Biotechnology 19, 75-78; DOI: 10.1038/83567
June 1998: pIII-defective helper phage.
Rondot, S, Anthony K, Dübel, S, Ida N, Wiemann S, Beyreuther K, Frost L, Little M, Breitling F. (1998) Epitopes fused to F-Pilin are Incorporated into Functional Recombinant Pili. Journal of Molecular Biology 279, 589-603; DOI: 10.1006/jmbi.1998.1773
December 1991: Antibody library displayed on the surface of a bacterium.
Fuchs P, Breitling F, Dübel S, Seehaus T, Little M. (1991) Targeting recombinant antibodies to the surface of Escherichia coli: Fusion to a peptidoglycan associated lipoprotein. Nature Biotechnology 9, 1369-1372; DOI: 10.1038/nbt1291-1369
August 1991: First phagemid-displayed recombinant antibodies. All recombinant antibody libraries use this principle today.
Breitling F, Dübel S, Seehaus T, Klewinghaus I, Little M. (1991) A surface expression vector for antibody screening. Gene 104, 147-153; DOI: 10.1016/0378-1119(91)90244-6