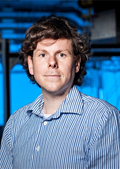 Dr. Ian Howard
Karlsruhe Institute of Technology
Institute of Microstructure Technology
Hermann-von-Helmholtz-Platz 1
76344 Eggenstein-Leopoldshafen
Ian leads the Advanced Materials and Optical Spectroscopy Group.
Research Interests
My research uses spectroscopy to explore the fundamental optoelectronic properties of solution-processable semiconductors. I am currently especially interested in organic semiconductors and metal organic frameworks. The ultimate goal of this research is to understand how energy flow is controlled at the nanoscale in these materials, and to use this knowledge to help design better materials for low-cost solar energy conversion.

Publications
For a complete list of publications please see my google citations, or ResearcherID profile.

Short CV