Microenergy Technologies
Type:

Lecture

Chair:

Department of Mechanical Engineering

Semester:

SS 2023

Time:

Fr 2023-04-21
08:00 - 09:30, weekly
10.91 Redtenbacher-Hörsaal
10.91 Maschinenbau, Altes Maschinenbaugebäude (EG)


Fr 2023-04-28
08:00 - 09:30, weekly
10.91 Redtenbacher-Hörsaal
10.91 Maschinenbau, Altes Maschinenbaugebäude (EG)

Fr 2023-05-05
08:00 - 09:30, weekly
10.91 Redtenbacher-Hörsaal
10.91 Maschinenbau, Altes Maschinenbaugebäude (EG)

Fr 2023-05-12
08:00 - 09:30, weekly
10.91 Redtenbacher-Hörsaal
10.91 Maschinenbau, Altes Maschinenbaugebäude (EG)

Fr 2023-05-19
08:00 - 09:30, weekly
10.91 Redtenbacher-Hörsaal
10.91 Maschinenbau, Altes Maschinenbaugebäude (EG)

Fr 2023-05-26
08:00 - 09:30, weekly
10.91 Redtenbacher-Hörsaal
10.91 Maschinenbau, Altes Maschinenbaugebäude (EG)

Fr 2023-06-09
08:00 - 09:30, weekly
10.91 Redtenbacher-Hörsaal
10.91 Maschinenbau, Altes Maschinenbaugebäude (EG)

Fr 2023-06-16
08:00 - 09:30, weekly
10.91 Redtenbacher-Hörsaal
10.91 Maschinenbau, Altes Maschinenbaugebäude (EG)

Fr 2023-06-23
08:00 - 09:30, weekly
10.91 Redtenbacher-Hörsaal
10.91 Maschinenbau, Altes Maschinenbaugebäude (EG)

Fr 2023-06-30
08:00 - 09:30, weekly
10.91 Redtenbacher-Hörsaal
10.91 Maschinenbau, Altes Maschinenbaugebäude (EG)

Fr 2023-07-07
08:00 - 09:30, weekly
10.91 Redtenbacher-Hörsaal
10.91 Maschinenbau, Altes Maschinenbaugebäude (EG)

Fr 2023-07-14
08:00 - 09:30, weekly
10.91 Redtenbacher-Hörsaal
10.91 Maschinenbau, Altes Maschinenbaugebäude (EG)

Fr 2023-07-21
08:00 - 09:30, weekly
10.91 Redtenbacher-Hörsaal
10.91 Maschinenbau, Altes Maschinenbaugebäude (EG)

Fr 2023-07-28
08:00 - 09:30, weekly
10.91 Redtenbacher-Hörsaal
10.91 Maschinenbau, Altes Maschinenbaugebäude (EG)




Start:

21.04.2023

Lecturer:

Prof. Dr. Manfred Kohl

SWS:

2

Lv-No.:

2142897

Exam:

oral exam, by appointment

Information:

On-Site
Goals and Outline
The lecture addresses students in the fields of mechanical engineering, energy technologies, mechatronics and information technology. A comprehensive introduction is given in the basics and current developments in this new and very dynamically evolving field. The lecture is (supplementary/compulsory) in the master courses of "Energietechnik" and "Energy Technologies (ENTECH)" and supplementary in the major of "Mechatronics and Microsystems Technology" in Mechanical Engineering.
Course:
Mechanical Engineering: Major M&M
Energy Technologies: NN
Energietechnik: NN
Outline:
Basic physical principles of energy conversion
Layout and design optimization
Technologies
Selected devices
Applications
The lecture is given in English.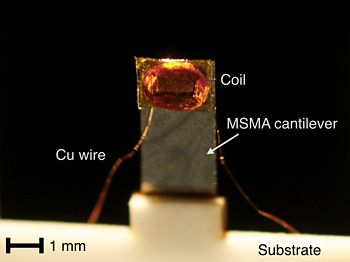 Thermo magnetic energy harvester

Contents
The lecture includes amongst others the following topics:
Kinetic energy harvesting
Micro thermoelectrics
Micro thermomagnetic energy generation
Solid state cooling
EM field energy conversion
Microsystem enabled photovoltaics
Microbatteries and supercapacitors
Microfuel cells
Bibliography
Lecture notes (overhead transparencies) "Micro Energy Technologies"
Stephen Beeby, Neil White, Energy Harvesting for Autonomous Systems, Artech House, 2010
Shashank Priya, Daniel J. Inman, Energy Harvesting Technologies, Springer, 2009