X-ray zoom lens (Elisa Kornemann)
Contact: Elisa Kornemann, phone: +49 721 608-22786, elisa kornemannFxj1∂kit edu

Optics with an easily adjustable focal length will serve X-ray microscopy a lot. An X-ray zoom lens renders the possibility to freely choose the magnification factor in full field microscopy. The distance between sample and image plane can be kept constant even when changing the photon energy. With such optics even X-ray spectroscopic measurements can profit, as in spectroscopy changing the energy is inherent in the method.


Principle of an X-ray zoom lens – single lens elements in and moved out of the beam
| | | |
| --- | --- | --- |
| First measurement of a half lens with line focus in the beam at PETRA III, P05 | | At IMT Compound Refractive X-ray Lenses (CRLs) have been developed. These lenses show good optical properties in the hard X-ray regime for photon energies above about 8 keV up to about 100 keV. Until now several customized lens layouts for applications are processed on one substrate. So one can select the most suitable lens, shift it into the beam, slightly readjust the system and use the lens. To achieve an adjustable focal length single lens elements have to be moved out and back into the beam. Therefore in this project we use piezo bender actuators to bend previous sawed substrate stripes with single lens elements at the end reversibly out of the optical path. This so called zoom lens is remote-controlled. An operator can easily give the required photon energy, sample and detector position and then the most suitable and low astigmatism lens setup will be chosen automatically. |
In comparison to a transfocator with a focal length in the meter range, a zoom lens can provide focal length in the centimeter to meter range. The zoom lens has a small overall size and can therefore easily be mounted in different beamlines. It allows for fast switching the focal length. Therefore we are always looking for new application and measurement methods where these new possibilities can be used.

First test of a full mounted zoom lens with point focus at ESRF, ID01
Beam shaping optics (Dr. Arndt Last)
Contact: Dr. Arndt Last, phone: +49 721 608-23817, arndt lastYdx5∂kit edu

X-ray prism lenses (XPLs) and Fresnel lenses can be used for illumination purposes in the hard X-ray wavelength regime as they are used in visible light regime. In this project we develop polymer lenses for certain applications in full field X-ray microscopy and other imaging techniques.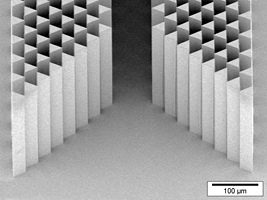 Condenser
The sample illumination in a full field microscope application should fulfil two requirements. The intensity in the sample plane shall be as homogenous as possible across the whole field of view (FoV). And the rays coming from the illumination optics shall be accepted by the objective lens. In this project we develop condensers fabricated using deep X-ray lithography (LIGA).
Beam shaper
At high brilliance synchrotron sources the beam size is limited by the low divergence of the beam from the undulator source in vertical direction. This relatively small beam cross section limits the available field of view (FoV) for full field imaging. For many applications a larger FoV is desirable e.g. for medical, or biological samples or in materials science where the sample size is given by the manufacturing process. To cover long samples, several height steps are scanned and the tomograms are stacked, which is time consuming. Furthermore, the Gaussian shaped beam profile is not ideal for full field imaging where a more constant intensity over the sample would be advantageous.
To overcome these limitations we developed refractive beam shaping optics, produced via deep X-ray lithography using SU‑8, an epoxy based polymer. The designed optics consist of biconvex Fresnel-elements defocusing the beam. The local curvature is tailored to widen the incoming beam and at the same time change the incident Gaussian-like beam profile to a top-hat intensity distribution.
When testing the beam shaper at the P05 beamline of PETRA III (Hamburg, Germany) operated by HZG, we were able to widen up the original beam profile in vertical direction from 1.9 mm to 6 mm. In addition the beam was transformed from a Gaussian-like beam intensity profile to a more top-hat distribution. Due to the fact that we are free to shape the facet of the lens for a certain purpose, it is possible to generate any desired intensity distribution with a suitable designed beam shaper of this type.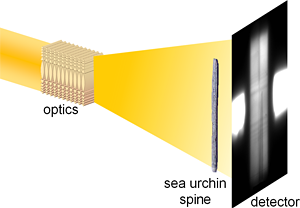 Left: Image of beam profile at P05, with beam shaping optics widening the beam. Right: Beam profile changes from Gaussian like (upper graph) to more top-hat like distribution (lower graph, blue).
Multi focus lens (Alexander Opolka)
Contact: Alexander Opolka, phone: +49 721 608-22786, alexander opolkaFgs9∂partner kit edu
The field of view of a for example 2 m long X-ray full field microscope using refractive lenses normally is limited to roughly 100 µm, because the lenses aperture is about this size. To overcome this limit, an arrangement of n times m parallel lenses can be used. Such an array generates many images of different regions of the sample at the same time on the detector.

In another type of multi lens all lenses look at one point of the sample. Thus they capture light passing the sample under different directions. In this way more light from the sample is captured on the detector, providing several images taken under slightly different angles. This method could be used to reduce the exposure time in X-ray microscopes at tube sources.