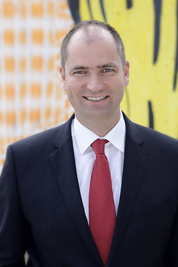 Prof. Dr. Hendrik Hölscher
Karlsruhe Institute of Technology
Institute of Microstructure Technology
Hermann-von-Helmholtz-Platz 1
76344 Eggenstein-Leopoldshafen
Lectures
Title
Type
Semester
Lecturer
Lecture
SS
Prof. Dr. Martin Dienwiebel (IAM-CMS)
Dr. Stefan Walheim (INT)
PD Dr. Hendrik Hölscher
Lecture
SS
PD Dr. Hendrik Hölscher
Dr. Christian Greiner (IAM-CMS)
Dr. Stefan Walheim (INT)
Publications Prof. Dr. Hendrik Hölscher
Below please find my publications. The list of articles and book contributions contains items since 2008 and is searchable (see the box on the right). For a complete list and/or statistics please follow this link to my Research Id and Google Scholar.
Patents
M. Röhrig, M. Schneider, G. Etienne, M. Worgull, H. Hölscher (DE 10 2012 110 048): Verfahren und Vorrichtung zur Herstellung eines Formkörpers mit mindestens zwei hierarchisch zueinander angeordneten Strukturebenen.
H. Hölscher, S. Solares: Cantilever with paddle for operation in dual-frequency mode (US 2011/0067150) Verfahren zur Messung der mechanischen und adhäsiven Eigenschaften einer Oberflächen gleichzeitig zu ihrer Abbildung mittels Rasterkraftmikroskopie
H. Hölscher, M. Worgull: Formkörper, Verfahren zu seiner Herstellung und seine Verwendung (PCT/EP 2009/007528) Verfahren zur Herstellung von hierarchischen Gecko-artigen Strukturen auf der Nano-Skala.
H. Hölscher, J.-E. Schmutz, M. M. Schäfer: Colloid-Sensor (PCT/EP 2007/010596). Herstellung eines Sensors zur Messung von Adhäsion und mechanischen Eigenschaft auf der Nano-Skala.
Editorials
H. Hölscher, U. D. Schwarz: Papers from the 12th International Conference on Noncontact Atomic Force Microscopy (NC-AFM 2009), 10-14 August 2009, Yale University, New Haven (CT), USA. Erschienen in: Journal of Vacuum Science and Technology B, Volume 28 (2010), pp. C4A1 – C4E39
U. D. Schwarz, H. Hölscher, R. Wiesendanger: Proceedings of the Third International Conference on Non-Contact Atomic Force Microscopy, 16-19 July 2000, Hamburg Germany. Erschienen in: Applied Physics A, Supplemental to Volume 72 (2001), pp. S1 - S143