Welcome to the Institute of Microstructure Technology (IMT)
IMT is a one-stop-shop for advanced micro and nano system development and upscaling. For every posed challenge, our skilled multidisciplinary teams develop novel technological and application-oriented solutions at forefront of the state-of-the-art. Our up-to-date technology platform is also accessible through the KNMFi services. The in-house lithography capabilities range down to 6 nm lateral resolution, and is coupled with our extensive know-how in fabrication process development. Our talented young scientists cover a wide range of applications and technology platforms. We extensively educate M.Sc. and Ph.D. thesis students, and our alumni hold key positions at the top technology addresses.
IMT X-ray lenses: Cover page of "Journal of Synchrotron Radiation"
The recently developed staircase array of inclined refractive multi-lenses can perform large field of view (FoV) pixel super-resolution scanning transmission hard X-ray microscopy with a 780 ± 40 nm spatial resolution within a FoV of 1.64 cm × 1.64 cm. (Photo: IUCr Journals, Wiley)
DOI: 10.1107/S1600577521001521
More…
All-evaporated Perovskite Solar Modules
Upscaling perovskite photovoltaics from cell to module level with scalable processes is a key challenge. Researchers at IMT and LTI have now produced perovskite solar modules with almost no loss of scaling. They combine laser-scribed interconnection lines with the ease of co-evaporated perovskites.
(Photo: Amadeus Bramsiepe, KIT)
More…
Broadband NMR Micro-detectors Push NMR Boundaries
Scientists of the Karlsruhe Institute of Technology (KIT) developed an NMR micro-detector capable of detecting 7 different nuclei. The detector being realized employing MEMS techniques exhibits a sensitive bandwidth of >375 MHz (Photo: Markus Breig, KIT).
Large Signals from sub-µl Samples for Palm-Sized Magnets
Nuclear magnetic resonance (NMR) spectroscopy of minute sample volumes inside low-field portable, permanent magnets is made possible by a new MEMS based probe head developed by the Karlsruhe Institute of Technology (KIT). The probe induces large non-equilibrium spin polarisation, dramatically boosting the signal-to-noise-ratio of the NMR measurement (CAD-Drawing: S. Kiss, KIT).
doi:10.1038/s41598-021-83625-y
Perovskite Layers Precisely Examined
Efficient materials for solar cells of the future - New model for determining photoluminescence quantum yields
(Photo: Markus Breig, KIT)
More…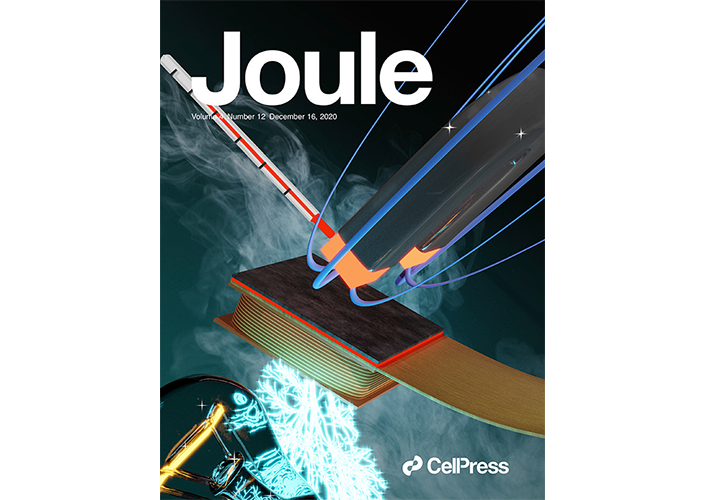 Efficient Power Generation from Waste Heat
Researchers at KIT and Tohoku University (Japan) succeeded in significantly enhancing the electrical power of thermomagnetic generators with respect to footprint. This research is the front topic of the December 2020 Issue of the Energy Journal 'Joule'.
Original Publication: Joel Joseph, Makoto Ohtsuka, Hiroyuki Miki, and Manfred Kohl: Upscaling of Thermomagnetic Generators Based on Heusler Alloy Films. Joule, 2020.
DOI: 10.1016/j.joule.2020.10.019
More…
Among the Best Apprentices 2020: Nils Hepp from IMT
The Institute of Microstructure Technology congratulates his former apprentice Nils Hepp. He finished his final exams in electronics with the top score "very good" and is thus one of the best graduates in the region (Photo: A. Voigt, IMT).
Enormous Acceleration for Drug Research
Processes can run 10 000 times faster - European Research Council funds KIT researchers Prof. Korvink (IMT) and Dr. Meier (IBI) and international partners in the HiSCORE project (Photo: Breig, KIT).
More…
Researchers from IMT and LTI Received the Gips-Schüle Young Scientist Award 2020
Former IMT-researcher Dr. Frederik Kotz (right) and LTI-researcher Dr. Tobias Abzieher (left) were awarded for outstanding dissertations in the fields of microstructuring of glass and manufacturing of novel types of solar cells (Photo: Gips-Schüle-Stiftung).
More (in German)…